National Fire Service Day is celebrated every year on the 14th of April in India by fire brigades, fire departments, Industries, Institutes, government offices, NGOs, airports, dockyards, etc. to pay tributes to the 71 firemen who lost their lives in Bombay Port fire on 14th April 1944. It is also known as Martyr's day because on this day everyone gives homage to all brave firefighters who lost their lives while doing their jobs last year. The government of India awarded all brave firefighters on NFS day who have done extraordinary work in their service.
Fire service week is observed from 14th April to 20th April thought the country to spread awareness among the public regarding fire safety. During this week different types of public engagement activities are organized in India.
The theme of National Fire Service Day/Week 2023
"Learn Fire Safety, Increase Productivity"
"अग्नि सुरक्षा सीखें, उत्पादकता बढ़ाएँ"
Click below for a detailed circular by the director-general of fire services (MOHF) on the Fire service week 2022
History of National Fire Service Day
On 14th April 1944, a major fire break out in British freighter "SS Fort Stikine" on Victoria dock at Bombay port in which 71 firefighter lost their lives. SS fort Stikine ships carried a million liters of lubricating oil barrels, ammunition, detonators, cotton bales, currency note, gold, and currencies. The ship was parked at the port on the 12th of April without any safety concern but on 14th April it caught fire and was exploited due to the storage of 1400 tonnes of explosives. The ship was destroyed by two giant blasts and its debris was spread in the surrounding areas, entire victoria dock was destroyed due to fire & explosion. In this tragedy approx 800 to 1300 people lost their lives.
The sequence of incidents:1
The cargo ship arrived at Mumbai port on the 12th of April 1944
On 14th April around 2 pm, cargo crew received alarm(alert) about fire in No,2 holds of the ship
Immediately firefighters of cargoship arrive and start firefighting. They also called dock firefighters for help in firefighting.
The onboard fire team and dock fire team were unable to extinguish the fire after using 900 tonnes of water for firefighting. They were unable to the identified source of fire due to dense smoke in the ship. Water used for firefighting was boiling due to heat
After fighting for 1.5 hrs it seems that the fire was out of control so around 3.30 pm order for complete evacuation was given to all fire responders.
At 4.06 pm there was a big explosion in ships because of that ship was broken in two parts. Due to the high intensity of blast window glasses were broken up to a 12 km area
After some time at 4:34 pm, the second explosion occurred which was more powerful than the previous one. Due to the second blast earth trembled was observed in Shimla which is 1700 km away from the location of the blast
Due to the explosion burning material being spread out in the nearby area it is observed that in the second explosion debris threw up to 2000 ft in the air. Burning cotton bale was fell from the sky on nearby ships, docks, and slum areas. because of that nearby ships caught fire as per record 13 nearby ships caught fire, nearby slum area caught fire in which approx 500 people lost their lives, entire victoria dock caught fire and destroyed
Firefighters got controlled over the main fire after four days of continuous fire fighting.
In this tragedy, 71 firemen lost their lives, approx 500 civilians, and 250 supporting staff lost their lives. Total 800-1300 people died in this incident and 2408 people got injured.
It was the worst fire incident in British India in which the country lost its people, materials, money, and properties in huge numbers.
To remember all these martyrs National fire service day is celebrated in entire India on 14th April
Apart from that Fire awareness campaign is organized from 14 to 20 march across India to spread awareness among the people on fire safety. you can find ideas for the fire service week campaign as follow
The ideas for the Fire service day celebration
Display the Fire Service day banner: Display the fire service day banner at different locations of your plant, institutes, offices, buses, canteens, etc. on 14th April to spread awareness about the fire day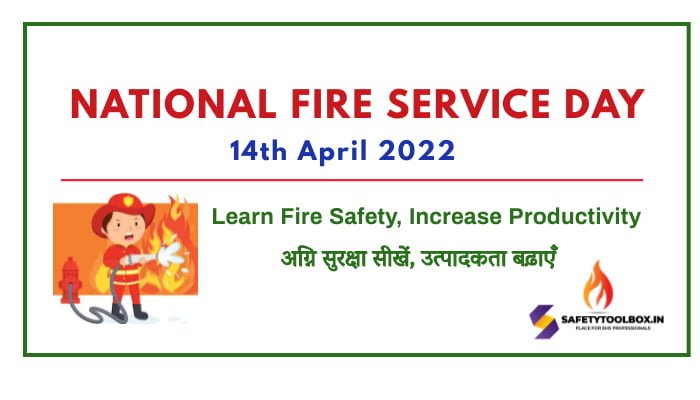 National fire service day messages: Prepared flyers on national fire service day and spread through your company mail to all users with messages related to the theme of the year
Pining of Fire badge: Pinned badges to everyone for awareness on fire service day
Opening meeting: The opening meeting starts with the welcome note and lighting of the lamp which is followed by sharing of the fire service week agenda with everyone and closed by a Motivating speech of top leaders on fire and safety.
Host the flag: On the occasion of this day flag hosting can be arranged to feel proud to the firefighters on their services for the nation
Fire Pledge/Oath: After the flag hosting everyone takes the pledge on fire safety (fireman pledge is attached here)
Homage to martyrs: Remember martyrs on national fire service day, called their family members, and share their stories with everyone so youngsters get inspiration
Fire drill: During the National Fire service week, a fire drill can be arranged to spread awareness related to a fire risk and check emergency preparedness
Training on firefighting: Organize Fire fighting training in which practical and theoretical knowledge related to fire is given to participants for first aid fire fighting during emergency
Fire awareness sessions in the community: Arrange fire awareness sessions in schools, colleges, hospitals, public places, etc. to spread awareness among the general public
Fire safety audits: Conduct Fire safety audits in workplaces, schools, colleges, multi-story buildings, or different public places to identify gaps related to firefighting
Fireman pared: Fireman pared can be arranged to understand the coordination of team
Ladder drill: To check emergency preparedness of firefighter ladder drill can be arranged because the ladder is an important tool for making an approach for firefighting during the fire at the height
Fire Speech competition: In this competition participants delivered a speech on fire safety
Essay competition: Essay competition on the subject of fire can be arranged to understand the knowledge of the team on fire
Slogan competition: Slogan competition related to fire can be arranged
Poster competition: A poster competition based on the theme can be arranged
Fire quiz: Fire related quiz competition can be arranged to check awareness related to fire
Inspections and Maintenance of fire equipment: Testing and maintenance of fire equipment such as Fire extinguishers, fire hydrant, fire hose, hose reel, smoke detectors, beam detectors, MCP, etc. can be planned during fire service week to ensure the healthiness of fire equipment
Fire tender awareness: Fire tender is a very useful vehicle for firefighting at any place so awareness sessions can be arranged for firefighters
Awareness session on emergency plan, MCP, fire pump house: During an emergency, everyone must be aware of their role and responsibility so you can arrange sessions on emergency awareness
Exhibition of fire equipment: Display all fire equipment used in the plant in one place and explain the use of each instrument to everyone during the exhibition for awareness
For more ideas on fire service day, celebrations click here
Insights of Fire service day theme 2023
Every year DGFS announces a theme for the National fire service day celebration to focus on different areas related to fire safety. Another motive behind declaring the theme is to run the campaign equally throughout the nations. This year DGFS declare a theme for fire service day celebration which state like
"Learn Fire Safety, Increase Productivity"

"अग्नि सुरक्षा सीखें, उत्पादकता बढ़ाएँ"

Theme for National fire service day
From 2019 to 2021 entire world is suffering from the covide19 pandemic during that period lots of businesses shut or their revenues got shrunk it is a tough time for the entire world. In a pandemic, it is observed that cases of fire were increased in hospitals throughout the country because medical equipment and utilities were running continuously in the Intense Care Unit (ICU) and other special covid wards. Due to fire productivity in hospitals is disrupted and also lost innocent people in these accidents. It is very easy to control/stop a fire if extinguish in the first few minutes if this golden period passes fire may become violent and the entire area caught fire. By this theme, DGFS wants to spread messages related to learning about fire safety. In all cases of fires in hospitals, fire fighting equipment are available in Hospitals but no one knows about their operating procedure so by learning fire safety one can extinguish the fire in the first few minutes and save the properties and innocent people.
In 2019, In Surat Gujarat, there was a major fire break out in the commercial complex named Takshashila Arcade, located in the Sarthana area in which there was an electrical short-circuit in the airconditioner located in staircases of the building. Fire quickly spread on the third floor of the building where 50-70 students were in coaching class no one knows about basic fire extinguishers, almost 22 students lost their lives in this accident. As per this year's theme, if the owner of the coaching institutes knows about fire safety, they may be placed fire equipment on-premises or placed other emergency staircases for evacuations all 20 students may be saved. If students know about fire safety they may be survived or the fire won't be spread.
Not only these two incidents we have seen many accidents in industries in the last few years in which workers are not aware of fire safety and because of that minor fires converted into major fires and lost innocent lives, properties, and productivity. A single incident stop production of a plant for a week, month, or year. So awareness of fire safety is equally important for increasing productivity.
Conclusion: This year's theme is the best suites in the current time to enhance productivity by learning fire safety. It is recommended that sharing knowledge of fire safety from the school level creates a big impact on society and saves the nations from big losses and improves productivity. If productivity increases it directly helps nations on building their goals for the improvement of infrastructure, the lifestyle of their populations. In the end please Learn fire safety and increase productivity
For toolbox talk click here…