Hand tools and power tools safety is important because all of them are widely used in our day-to-day activities as an essential part of our life. These tools reduce human efforts during different activities like construction, maintenance, erection, commissioning, services, etc. In old days, people did lots of hard work in their entire life due to the unavailability of technology, after that as time passes people developed some tools to reduce their efforts. First, they designed hand tools like hammers, chisels, wrenches, knives, etc., and then start using different energies to operate these tools (like electrical, pneumatic, etc.) to reduce effort and time. These energy-operated tools are known as power tools.
It is interesting to know that by using power tools people can save time, effort, and hard work but at the same time some risks are increased due to the use of energy for its operation. To avoid any accident during the use of hand tools and power tools it is required to understand the risk associated with hand tools and power tools.
Let's understand Hand tools and power tools safety requirements in detail
Why Hand tools and power tools safety is important?
Data on accidents state that yearly over 960,000 injuries happened just because of power tools and thousands of people lost their lives due to accidents related to hand and power tools. As per CPSC injury with hand and power tools cost $ 15.4 million a year. All of these could be prevented by some basic awareness and precautions during using hand and power tools
Powered hand tools are the cause of many serious accidents on the job and account for various injuries.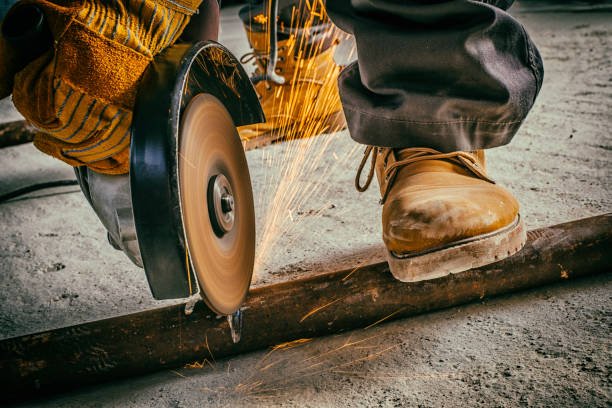 Hazards of Hand tools and Power tools
Noise: All power tools generate noise during their operation & if a person is continually exposed to noise levels of more than 85dBA their hearing capability is reduced
Vibration: All portable tool generates vibration during their operation. In the case of the daily operation of vibrating tools, users may suffer from HAVS or white figure syndrome
Electrical: Electrical power used to operate power tools in which risk of electrocution
Fire (Heat): During the long use of tools, their bit heated and resulted in a fire. Some tools generate sparks (i.e. grinding machine)
Ergonomics: Repetitive work may create an ergonomic hazard
Fall (Slip & trip): Trip by cable or pneumatic hose used for the supply of electricity or air
Mechanical: Due to continuous movement sometimes cutting tools got broken and resulted in serious injuries
Radiation: Ultraviolet, visible lights generate in case of short-circuit in power tools
Stuck against: During drilling sudden drill bit broke and the hand directly stuck against the wall
Visibility: working in low lighting
Secondary Hazard: Tool slipped while working (at height, floor, etc.) and injured someone working in its line of fire
Some common reasons behind injuries related to Hand tools and power tools :
Unauthorized operation
Overconfidence
Using tools without safeguards (disk guard, bit guard, etc.)
Unstable work surfaces or materials
Using damaged tools
Using the inadequate tool in an inadequate way
Removing interlocks
By passing the system (Deadman switch)
Lack of attention (absence of mind)
Tiredness due to long work by power tools (repetitive work)
Joints in cable or using damaged cable
Poor lifting techniques of tools
Unsecured tools while working at a height
Selection of wrong tools
Use of tools without inspection
Cables laid down on walkways
Taking supplies without plug tops
Using tools without having ELCB in its circuits
Using tools after their sharpness is gone. As sharpness is gone person must put some force to drill, grind, or cut, and in that case risk of breakage of tools (drill bits, grinding disk, hacksaw blade, etc.) is maximized, which resulted in injuries
Unexpected event
Poor 5S at the working location
Poor illumination
Wok in a hurry
Shortcuts
Work without PPE (hand gloves, goggles, face shield, etc.)
Safety Controls to avoid accidents by using Portable hand tools and power tools
Do not use any tool/equipment for which you are not trained to use
Do not touch any new tools without knowing about their operation from any qualified instructor/supervisor/manufacturer's instructions.
Inspect all portable tools (hand or power) before use (outer case, power cord, blades/bits, etc.)
Inspect all tools on monthly basis by a competent person through the checklist
Never use damaged tools, if found any damaged tools during inspections put tags "OUT OF SERVICE" and inform to Supervisor
Make sure portable tools (grinder, cutter, etc.) have appropriate guards
Use power tools that are operated by a constant pressure switch (Deadman switch) so as a person leaves their hand from the switch machine stops
The power cable of the equipment is in good condition
Avoid joints in the cable
Always use three prongs plug top for power tools
Use double-insulated tools to avoid electrical shock
Use 30ma ELCB or RCBO for protection against electrical shock
Make sure all operating switches should be in good conditions
Keep power tools cables away from heat, oil, chemical, or any sharp objects
Never hold the power tool by its cable
Never use portable tools rated for more than 240 V
Use a power extension board equipped with ELCB
Never keep your figure in the operating switch while plugin or plugging out power tools to avoid accidental operation
Use the right tool for the right job
Avoid working in a low-light area
Replace tools immediately if you feel their sharpness gone
Stop using power tools in wet environments
Do not wear loose clothes while using power tools
Don't wear rings or jewelry or lose clothing while using tools
Before adjusting, installing, and changing any accessory make sure it must be unplugged from the power socket
Make sure your body posture is in good condition while using tools
Always chose electrical tools according to the voltage rating
Make sure all hand tools like chisels, wedges, or drift pins are free from mushroomed heads
Always stores electrical power tools in dry places
Where flammable atmospheres exist, spark-resistant tools (FLP) will prevent ignition
Never use flammable chemicals (IPA, thinner, solvent-based cleaning agent, etc.) for cleaning power tools
Never Use Plier as a hammer or chisel
Do not modify the plier handle to gain more leverage
While working on height make sure that the below area should be barricaded, and all tools must be secured to avoid falls from height
Always use retractable knives for cutting
Air supply hose must be in good condition and should be checked before connecting with pneumatic tools
Check all air pipe connectors are locked properly to avoid sudden disconnection of the air pipe
Use QRC or retainers' devices in each power tool which is operated by pressurized air
Provide an isolation valve to stop the air supply during any emergency
Do not use compressed air for cleaning material, machine, or cloths
Never point out pneumatic tools to anyone
Always use googles, face shield, earplugs, helmet, hand gloves, and safety shoes according to work
Safety requirements while using Grinding machine
Before mounting the abrasive wheel in the grinding machine, it should be inspected to ensure free from cracks/ defects.
Ensure Disk design RPM is more than the machine RPM
Ensure the Expiry date of the abrasive wheel before use
The position of the guard must be toward your body, and it only allowed working parts to be exposed
Do not fix the grinding wheel with different mounting arrangements or different size
perform ring test to ensure the wheel is in good condition (it is not applicable for wheel dia less than 10 cm-4inch)
Never remove the handle of the grinding machine
Never use the sides of the wheel for grinding the surface
Stop using the grinding machine if found more vibration
Nameplate should be available on all machines to ensure its RPM and other details
Inspect the location before starting work and see where the spark might fall to avoid fire
Do not apply pressure on the disk while grinding or cutting
Safety requirements while using Drill Machine
Use the appropriate drill bit according to the work
Never use a metal drill bit for drilling in concrete or wood drill for metal to avoid the risk of bit break
Replace the drill bit after its sharpness is gone to avoid injuries due to drill break
Use hammering and normal function according to work in the drill machine
Ensure that the machine is in good condition (including cable, body, switch, etc.)
Always use goggles, face shield, earplugs, and hand gloves while using the drill machine
Telescopic or portable guard must be used for bench drill
For videos related to safety follow us n Linkedin
for more toolbox talk click here…
To subscribe our newsletter share your mail id below